Avoiding Frozen Pipe Damage During Winter
Posted by: Leila
Date: December 29, 2017
Maintaining Pipes in Good Condition
Many different circumstances potentially contribute to wet, damp basements, and crawl spaces. However, homeowners do frequently enjoy an opportunity to prevent some avoidable leaks. One all-too-common cause of flooded basements causes inconvenience for unwary North Carolina homeowners who vacation away from home for extended periods during the winter months. Avoiding frozen pipe damage because they can create significant unnecessary financial losses.
Follow some practical tips to minimize your risk of encountering unwelcome basement water leaks from this source: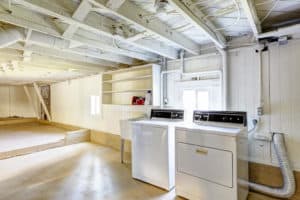 1. Tip Number One: Become Aware of Frozen Pipe Hazard
Avoiding frozen pipe damage sometimes contribute to water leaks because they permit water to freeze. As this change occurs, the water gradually forms ice and expands in size. (You've probably seen this phenomenon occur at home if you've ever used a freezer to prepare home-made ice cubes. If you fill an ice cube tray completely to the rim with water, when you prepare to extract the ice cubes you'll discover them extending well above the top of the tray).
While a pipe full of liquid normally won't burst, the transformation of water into ice frequently causes intense pressure on the interior of the pipe. As it forms, ice may even tear or rupture a metal or plastic pipe. When a thaw occurs, the ice melts and the pipe begins leaking. Many plumbing companies enjoy brisk business in the spring because homeowners failed to realize water pipes located in outdoor locations (or adjacent to exterior walls or cold basements) might lead to frozen pipes.
2. Tip Number Two: "Winter Proof" Your Home During Extended Absences
If you plan on remaining away from your home or North Carolina vacation residence for an extended period of time during colder months, you may benefit by obtaining winterizing services. A technician can turn off the utilities to the residence and drain out water from the pipes to ensure ice won't form inside your home's plumbing system during a freeze. Vacant properties that don't undergo winter weatherizing sometimes prove especially vulnerable to frozen pipe problems.
3. Tip Number Three: Request Periodic Plumbing Inspections
Some plumbers will assist homeowners in North Carolina by providing plumbing inspections before the arrival of winter. This service may help you determine if any of your home's water pipes appear at higher risk of freezing. Additionally, a plumbing inspection during the early spring sometimes assists homeowners in locating interior water leaks caused by broken pipes.
In some situations, water pipes running along the inside of exterior walls freeze and later develop leaks; detecting leaking water from this source proves difficult without cutting into the drywall. Recent advances in thermal detection technology now permit more reliable leak detection. Many plumbing companies possess this equipment. A plumber can offer useful advice about pipe insulation.
4. Tip Number Four: Monitor Basement Temperature Levels
If you do own a home with an unfinished and unheated basement or unsealed crawl space, you may find it helpful to closely monitor the temperature in this location. Under normal circumstances, exposed water pipes won't typically begin leaking. Frozen pipes can cause considerable problems, however.
By paying close attention to basement temperatures, you can sometimes take quick preventative action to prevent pipes from freezing during colder months. One important safety item deserves special mention: never attempt to stop a water pipe from freezing by applying a direct heat sources to the pipe. Taking this action can cause a fire and health hazard and produce very significant plumbing damage.
5. Tip Number Five: Insulating At-Risk Pipes
If your home has an unfinished basement, some pipes in this location may remain at risk of becoming a frozen pipe. One simple yet effective step may involve wrapping cloth or other insulating materials around the pipe. Always follow your plumber's recommendations (you should not insulate certain pipes). Many homeowners also seek to protect exposed outdoor faucets by covering them during the winter. Your plumber can offer helpful recommendations about insulating specific pipes during a plumbing inspection.
Obtain Skilled Waterproofing Assistance
Today, waterproofing experts often work closely with plumbing companies to assist homeowners in maintaining leak-free basements and crawl spaces. A frozen water pipe causes great inconvenience. Property owners can usually avoid this type of leak by taking precautions to keep their home's water and sewer pipes well-protected. We hope these tips help you by avoiding frozen pipe damage that causes problems.
Further Information
If your home in Southern Pines, Fayetteville, or surrounding areas suffers from a leaky basement or crawl space, Drainage & Waterproofing Solutions, LLC" provides useful assistance. We offer full-time basement waterproofing and moisture control services, as well as crawl space encapsulation, French drain installation, and interior drain and sump pump installation. Call us at 919-235-5219 for fast, skilled assistance!
Recent Posts
Contact Us
Meta